IS BULGARIA SAFE?
Bulgaria is safe.
Of course, before we decide to travel to some far away destination, we want to know how safe is to travel there alone. First thing we read is about the pickpockets, right?
Let me tell you something. They are everywhere and especially in the big cities. You will see them in London, Paris, Rome and I can continue for another 10 pages or so. But, that's not my point. Being careful even in your home-town is part of our lives and this should not affect our travel choices at all.
Comparing Bulgaria to other countries or the neighbouring Turkey – Bulgaria is very safe. People here are living in a peaceful harmony especially when it comes to the ethnic and religious differences. Yes, you might see stray animals and you always need to have piece of meat in your pocket… JOKING!!! Most of them are checked and not violent at all. So…
What to expect in Bulgaria?
Tap water is drinkable almost everywhere in the country. Bulgaria has more than 2000 mineral springs therefore it is not likely to see a sign that you should not drink the water. Plus, you can fill out your bottle with drinkable water on nearly every curve of the roads in the mountains and on the main squares in the cities.
Bulgarian currency is LEV and it is tied to the EUR, so you should always look for the exchange rate (1.00 EUR= 1.95 BGN). On some places you might find that they take commission, therefore before exchanging any money make your calculations first. Always read the receipt carefully as you do in any other country that has their own currency and you don't understand it.
Cheap Public Transportation. You have to buy a ticket in advance. Sometimes you can buy them from the driver, but only if you have the exact change. In most of the buses/trams you will find a machine where you can put coins and receive a ticket, but again – you need to have change. One ticket is 1.60 BGN, you can also buy а set of 10 tickets for 12 BGN (but you are the only one can use them and you always have to keep the last number of the ticket with you) or buy a day ticket for 4 BGN. You can buy a 3 Day Card for all the lines which is even cheaper –10 BGN.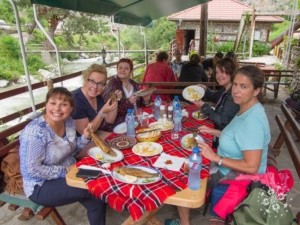 According to the last reports in Europe- crime in general in Bulgaria is very low. However, in case of emergency, you can call 112 and English is available. I always recommend to use a proper app for taxi companies because you will get the number of the car, the name of the driver and even more important – you will get an approx. amount of the price that you should pay in the end.
O, Bulgarian Cuisine … Food! Delicious food, strong taste, vegan, vegetarian and everything you read about the food in Bulgaria will be how cheap it is. Yes. Well, for Sofia I would say is affordable. Like in every other country the standards of living in the capital are much higher than any other city. Therefore, don't be surprised when you pay for coffee 3.00 BGN on the main square and next day 0.50 BGN in another small town. Checking your bill for an extra Salad, that you didn't order, should be a habit you should already have, if you travel often.
Free gifts? Well, NO! You should know that there is nothing free, except "love" of course. Some strangers will stop you and give you something for luck and so it begins … "Let me tell you something about your future", "…take this amulet to protect you from evil" etc. and this will continue till you get really annoyed and decide to give them something just to leave you alone. Beggars – you will see them mainly on the main streets and in front of the churches. I am not going to tell you what to do with them, because I will assume you know.
Roads… It is better to hire a driver, especially if you are going to travel outside of the city. Bulgaria has 3 highways that cross the country and the impression you will get at first will be quiet high… till you get off the main road. Travelling in the evening can be even difficult. Bumpy, unmarked roads and I am not even going to write about the lights, because "poor" is a very soft word when it comes to that topic. BUT the bus tickets from city to city are not expensive at all and can range between 5 – 50 BGN.
Bulgaria is like every other country in Europe and being overcharged in a bar or dance club can happen anywhere in the world. I can say that this actually depends on your own behaviour.
Other than that, Bulgaria is ranked 27th out of 162 ranking of the World's safest countries. So, stop reading and plan your visit to Bulgaria.
Looking for ideas:
IF YOU ARE LOOKING FOR A PRIVATE TOUR AND WANT TO DISCOVER MORE THAN THE TOURIST SIGHTS, THAN YOUR GUIDES ARE WAITING FOR YOU…
Did we get your attention? Let's start our journey through Bulgaria together and discover it all!