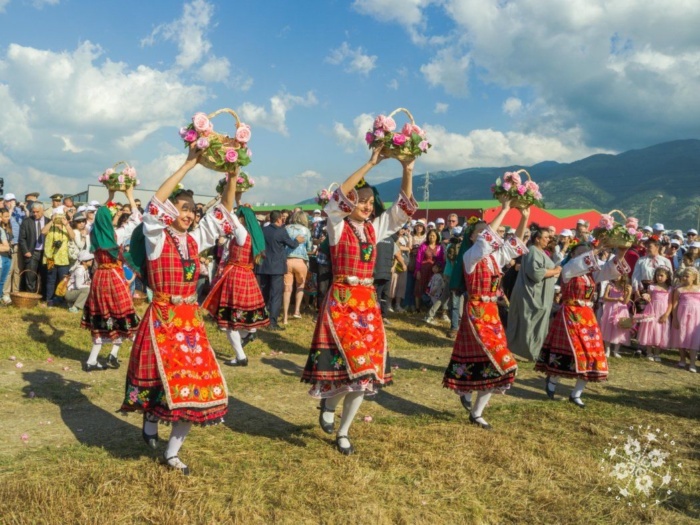 TRADITIONS & FESTIVALS – BULGARIA
Traditions in Bulgaria
Do you want to feel like a real local in a new country?
Probably you haven't heard the word "sabor"…. And do not even Google it, because what you will find as a translation will not be even close to what it means for the locals in Bulgaria. So here is a small hint! This is a kind of an old word that we used instead of "festival". "Sabor" in Cyrillic comes from "sabiram" which means together. Bulgarians love to celebrate each day, they love to gather together and they will always find a reason to have some fun.
I am not sure if you ever heard something about a Name Day, but in Bulgaria this day is even more important than the Birthday. For example, on this day your doors should be wide open for everybody. You do not invite friends, but they come anyway, so you have to be ready with the table before your guests.
But let's go back to the word "sabor". You might not believe, but each weekend of the year, somewhere in some village in Bulgaria people would be dancing on the main square and celebrate something unusual. We give honour to the Patron of the city, honour to the flowers, honour to the fruits, vegetables, water… and if you think that this cannot be true…. we invite you not as a tourist, but as a friend. Learn more about our traditions, festivals and explore the country as a local. Here are some ideas if you want to plan this year or next one…or two…
Check with us the dates for the upcoming festivals, before you start your trip.
January – International festival of the Masquerade games.
In ancient Bulgaria, wearing masks was believed to provide protection from evil, ensure a successful harvest, and guarantee health and fertility for humans and farm animals. Many of these pagan rituals, which were later incorporated into Christianity, are still performed in eastern Bulgaria between the holidays of Christmas and Easter. Dancing in the iced cold river? YEP! Nothing can scare the Bulgarian spirit.
February – Wines and vines
this month is given an honour to the vines, vineyards, wine-makers and the like. We do celebrate 14th of February (1st of February – new style), but here people won't send just valentines cards, instead they will visit a local winery, women will prepare a traditional bread and people will be dressed with typical Bulgarian clothes, sing and dance to invite the spring to their lands.
March – Welcome Spring
and goodbye Winter! On 1st of March, Bulgarians will put a white and red strings around their wrists, will hang them in their homes, on their cars, will pin them to their clothes and hope for a good year. And all of this, because they believe that the ritual will bring them health and fertility to the Mother Earth. This tradition is part of the UNESCO's list of protected cultural practices.
April – Easter
Yes! But not only… This month will be remembered in our history with the National Revival Movement during the Ottoman rule. On 20th of April, thousands of people will drive to Koprivshtitsa (1h and 30 min away from Sofia) and give honour to the few people, who were brave enough to raise their heads and ask for freedom.
May – Festival of the Chiprovtsi carpets,
Folklore festival in Veliko Tarnovo, the day of St. Cyril and Methodius, who gave to the world the Cyrillic alphabet. More than 3 million people write in our alphabet and all of this would not be possible without our Bulgarian Tsar Boris I. Did you know that? If not, we will be more than happy to tell you all about.
June
Already in the end of May we will start with the Rose Festival in Kazanlak and continue till almost the middle of June. Followed by Music Festivals in Plovdiv, Cherry Festivals, Brandy Festivals and the like.
July
The Music Festivals will continue, but now on the Sea coast with its blue waters and sun-kissed beaches.
Folklore Festivals with fire dancers,
Festival of the National Costumes in Zheravna, Rhodopi Festival with hundreds of bagpipes playing at once, The Week of the Balkan Mountains… If you do not like crowds, prepare yourself, because August is rammed and if you just want a quiet place to sit down, you have to take your earplugs with you.
September
We celebrate our Independence Day on 22nd of September, but can we go a whole month without music and dancing? No! Here we will have a Dance week and Plum Festival. We will buy hundreds of bottles and fill them up with plum brandy, because "winter is coming".
November – 1st of November is the day of our National Heroes
And the unofficial Birthday of our Project – Undiscovered Bulgaria. We will definitely prepare something special for you.
December
Here is no need to mention even the Christmas, New Year's Eve … Reserve your table in a Traditional Bulgarian restaurant at least 3 months ahead of time, because as we said, Bulgarians love to celebrate and they do celebrate the whole December. Company events, parties, St Nikolaus Day, The Students day or just the "Day of the Day"!
Looking for more ideas:
We are traditionalists who are passionate about our folklore, culture, food, history, and nature. In order to provide our guests with an unparalleled experience, we explored every nook and cranny of our country. We met the winegrowers, farmers, and the elderly people who shared their stories with us. We simply fell in love with everything what Bulgaria has to offer and can hardly wait to show it to you.
IF YOU ARE LOOKING FOR A PRIVATE TOUR AND WANT TO DISCOVER MORE THAN THE TOURIST SIGHTS, THAN YOUR GUIDES ARE WAITING FOR YOU…
Did we get your attention? Let's start our journey through Bulgaria together and discover it all!